Company Overview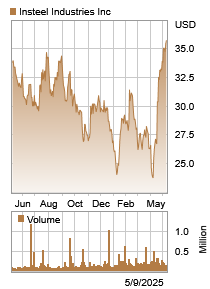 Reinforcing is our business.
Insteel Industries is the nation's largest manufacturer of steel wire reinforcing products for concrete construction applications. We manufacture and market prestressed concrete strand ("PC strand") and welded wire reinforcement, including engineered structural mesh ("ESM"), concrete pipe reinforcement and standard welded wire reinforcement. Our products are sold primarily to manufacturers of concrete products that are used in nonresidential construction.
Our business strategy is focused on:
achieving leadership positions in our markets.
operating as the lowest cost producer.
pursuing growth opportunities in our core businesses that further our penetration of current markets served or expand our geographic footprint.
Headquartered in Mount Airy, North Carolina, we operate ten manufacturing facilities located in the United States. Our common stock is traded on the New York Stock Exchange under the symbol IIIN.
Presentations
More information is coming soon.
Recent Events